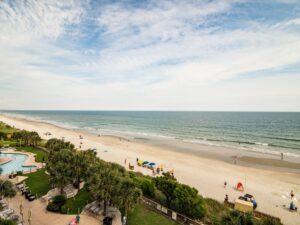 WOW,  where do I begin?  I guess giving thanks to our almighty GOD for blessing me in so very many ways.  My first trip to the beach was 47 years ago.  I was a single mom with three very small children.  I should never have driven that far with three babies by myself, but something drew me to the ocean.  It happened on GOOD FRIDAY, an unplanned weekend get-away with a 5 year old, a 3 year old and a 2 year old, oh yes and a Great Dane!  Yes I was crazy!  My life changed on that Easter Sunday morning during sunrise service on the beach.  Even though that  morning, it was pouring down rain, it was one of the most beautiful services I've ever seen.  I met some of the kindest people in the world that morning, I will always remember how they sheltered me from the storm…  Now all these years later, my now adult children and my grandchildren help me carry on the tradition we started that Easter.  My entire family has been going to the beach every year – I've missed two years because of surgeries.  SO I guess you can say we are beach lovers.
I've bought and sold real estate for sometime, but the condos on the beach are near and dear to my heart. My wonderful husband has learned to love the beach too. He was not a sun and sand kind of guy, but he came around!
SOMEDAY, we will live there year around. Each and every one of the condos has a special story that I love to share with other beach lovers. The guests that stay in these condos have become an extended family.  Even though I haven't met the majority of them in person, we become beach family – we share more than the love of the ocean, we share things about our families and friends.  I was even invited to a wedding of a young couple that met while staying with their parents in one of our condos.  They were staying at two different condos in the same building, and as love often does, it washed over them like the waves on the beach. Two years later they had a beautiful beach wedding.
YES, the beach has something for everyone.  I hope you and your family will start building your memories, Memories last a life time and then some!
Beach Blessings to you all.